This is for theprincess-and-theduchess. Say hi to your baby. Cough not Yongguk cough. I'm sorry I'm so slow on the stories. It'll probably be until July when I can open again >_<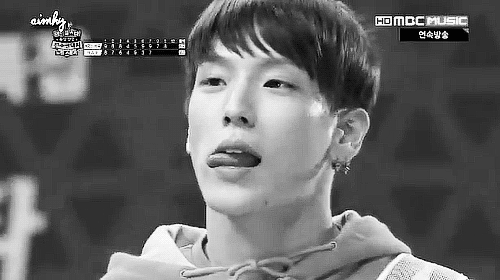 Himchan didn't have a leg fetish. No, he absolutely did not. It wasn't his fault his girlfriend happened to look very very good in miniskirts. He glanced over at the exposed skin and quickly averted his eyes. He didn't have a leg fetish. He just liked to admire.
            She shifted and his mouth fell open when she crossed her legs. Her smooth calf was now in view and he traced the lean muscle down her entire limb. Her foot was encased in a pair of sleek heels and he admired how toned her legs were. He just wanted to reach out and run a hand down-
            "Kim Himchan!" He jerked his head up and their eyes met. She looked half annoyed and half amused. "Were you staring at my legs again?"
            He shook his head. "No. Read your book. You have a lot of work and I'm not sleeping until you do, so you'll have to hustle unless you don't mind my staying up all night."
            She scrunched her nose at him and went back to concentrating on her work. Himchan, on the other hand, allowed his eyes to wander again. He sighed and forced himself to focus on his own homework. He drew out the blueprint diligently, cursing the life of the architecture student. His pencil rolled off the table and he bent to pick it up and her leg was right in front of him.
            He mentally traced the shapeliness of her thigh which tapered into her knees and then her flawless shin. A squeak escaped from him as he pictured her legs around his waist when he picked her up. She coughed again and he slowly raised his head. They made eye contact and he quickly diverted his gaze back to his paper.
            Himchan held up his pencil. "Got it," he muttered as he erased a stray mark furiously. She clucked her tongue and he chose to ignore her. Let her think what she wants. He had a girlfriend fetish, not a leg fetish. He wasn't that weird.
            After a few more strokes, Himchan placed down the writing tool and put his head on the table. He watched as she started to type into her computer, flipping rapidly through her books and he sighed. He played with his fingers and casually allowed his eyes to drop down the table.
            She was shaking her legs as she thought and Himchan's tongue came out involuntarily. With each movement, her shorts slid up higher, exposing more skin and he gulped.
            Then he saw stars. There was a bump on is head as he tried to orient himself. She had hit him with her book. Himchan groaned. "What's the meaning of this?"
            She didn't respond but he knew. He was caught. "You know, it's not my fault that I focus on skin. It's not really your legs I like, I'm just worrying about how much skin you're actually exposing."
            "Put your tongue away." He stopped talking and placed his head back down on the table. This time he made sure to keep his eyes squeezed shut. He heard his girlfriend sigh and then something landed on his lap.
            He opened his eyes and saw that she had placed her legs on him. Himchan looked at her. "Give me a massage?" she requested.
            He grinned and began to work out the nerves on her calves. She smiled and rolled her eyes. She leaned forward and typed something on her computer then turned it over to let him see. On the bottom of her finished essay, she had added, "After analyzing Freud for the entire essay, I now understand why my boyfriend has a leg fetish."
            Himchan dropped her leg and protested, "I do not!"
            She raised an eyebrow and hit the submit button, and that sentence, along with the knowledge, was now free in all of cyberspace.